Welcome
BERLIA PIPES is one of the leading Manufacturers, Suppliers and Exporters of complete range of HDPE / Polyethylene / Mdpe Pipes, Plb Duct Pipes. Our range includes fittings for all sizes ranging from 20 mm to 500 mm and all pressure classes.

We offer our customers a comprehensive range of PE PIPES being manufactured using best quality POLYETHELYNE granules sourced from top class suppliers. We hold BIS Certifications for Manufacturing ISI Marked Pipes for IS: 14333:1996 IS: 4984:2016 which are used for Drainage, Swage, Portable Water supply and Cable Laying. HDPE PIPES are protected against deterioration from exposure to ultraviolet light and weathering as they contain 2 to 3% carbon black.

Our Potential Customers for Hdpe Pipes, Mdpe Pipes and Plb Ducts are Ahmadabad Municipal Corporation (AMC), Tamilnadu Water Supply & Drainage System (TWAD), Bhavnagar Municipal Corporation, Vijayawada Municipal Corporation, Gujarat Water Supply & Sewerage Board (GWSSB), BHEL, BHEL-Vindhyachal Power Project, BHEL-Santhaldih Power Project , Project Seabird, Delhi Jal Board, Ahmadabad Urban Development Authority (AUDA), Tamil Nadu Water Supply & Drainage Board, Bharat Heavy Electrical LTD,Tiruchi, UP Jal Nigam, DDA, MCD, PWD, PHED, RUIDP, Indian Railways, Airport Authority of India, PGCIL, NBCC, NTPC, ONGC, UPJN, MINOR IRRIGATION DEPARTMENT, Tea Board Association, PVNL, CPWD, IOCL, COAL INDIA, NDMC, BSNL, MTNL.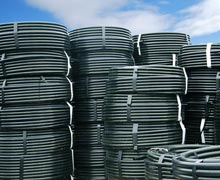 INFRASTRUCTURE
BERLIA PIPES has a Manufacturing division in Rai Industrial Estate, Sonipat, Haryana (India).

We have a Production Capacity to Manufacture 4,000 Metric Tonnes of PE Pipes annually. Having a World Class and Latest machinery from the Best Manufacturers around the Word we are one of the Best options in India for PE Pipes.

We use Spiral Mandrel technology for Extrusion Process, which makes the inner surface of pipe smooth and equally disperses the flow of material.

Our Production unit is capable to handle flow of both Raw Material and Finished Goods of approx. 11.5 Metric Tonnes per day as certified by Government recognised Inspection Houses.

With the production facility we also cater the most advanced computerised Laboratory which has Latest Equipments which are used for testing Pipes on a regular interval so that no such pipe which does not meet standards are shipped to the buyer.

We are working to expand our Dealer Network for Hdpe Pipes to Himachal Pradesh, Kolkata (West Bengal), Maharashtra, Gujarat, Uttaranchal, Jammu & Kashmir, Jaipur (Rajasthan), Telangana, Bihar, Punjab, Lucknow, Madhya Pradesh, Odisha, Chhattisgarh, Andhra Pradesh, Karnataka, Tamil Nadu and Rest of the India.